The Arrogants (Doo-wop)

The Arrogants were an American Doo-wop band out of Brooklyn, New York who recorded the songs "Mirror, Mirror", listed as one of the top 1,000 Doo-wop songs of all time in The Encyclopedia of Oldies Doo-wop (2006); and "Canadian Sunset", which has remained a Doo-wop staple, appearing on multiple Oldies and Doo-wop compilations over 3 decades. The 45 LP containing both songs, with backing music by The Mar-keys, was recorded in 1962 for Lute Records and is one of the most sought after singles by Doo-wop collectors .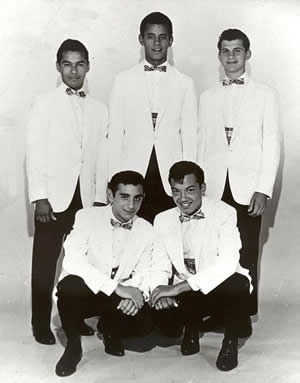 ORIGINAL MEMBERS:
Franky Ayala
Sal Giarraffa
Augie Miuzzo
Tisziji Munoz
Marshall Rivera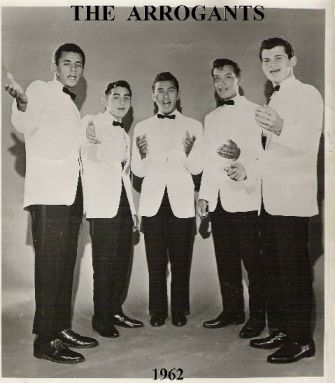 HISTORY:
Formed in 1959 in Brooklyn, New York, The Arrogants performed on street corners and at show clubs and dances in New York City's vibrant Doo-wop scene of the early nineteen sixties. In 1962, after recording two demos in Brooklyn ("My Heart Stood Still" and "Hold Me, Thrill Me, Kiss Me"), they ventured to California and recorded 2 songs for Lute Records: "Canadian Sunset" and "Mirror, Mirror". The producer of the Lute sessions was Marshall Lieb, who had a hit in 1960 as a singer with the Hollywood Argyles on the song "Alley Oop", and the Mar-Keys provided instrumental accompaniment.
Lute released a promotional single of "Canadian Sunset" with "Mirror, Mirror" as the B-side. "Canadian Sunset" was picked up by a number of radio stations, and began receiving considerable promotional play on some New York stations; the band returned to Brooklyn and performed until approximately 1965. "My Heart Stood Still" and "Hold Me, Thrill Me, Kiss Me" were never released. In 1967, at the front side of a resurgence of interest in Doo-wop music, Candlelite Records acquired and re-released the single with "Canadian Sunset" and "Mirror, Mirror".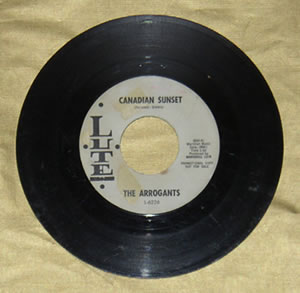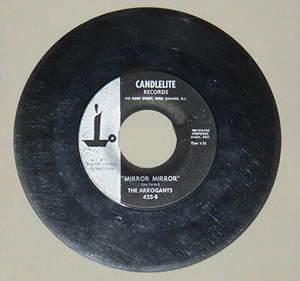 Two separate releases of Mirror, Mirror/Canadian Sunset single (click 45 to listen)

The player above is a collection of videos about The Arrogants and their music from youtube.com
The Doo-wop renaissance continued into the 1970's and was fueled largely by renowned DJ Gus Gossert taking a position at WCBS-FM in New York. Gossert was hired by New York's WCBS-FM in 1969 to host a Sunday night oldies show - long before that station switched to an all-oldies format in 1972. Gossert's WCBS-FM show, which focused on Doo-wop music of the 1950s, proved to be immensely popular. That popularity continued when his show switched to WPIX-FM in 1971 and 1972 (he also had a Saturday night show at WPIX-FM). At one time, Gossert's show was the highest-rated Sunday night program in New York radio. In 1971 Mr. Gossert released a compilation on Juke Box Records entitled "Gus Gossert Presents, The New York Doo-wopp Album Vol. 1" and may very well have cemented The Arrogants' place in the Doo-wop pantheon by including "Canadian Sunset" alongside songs by some of the genre's biggest and most notable groups.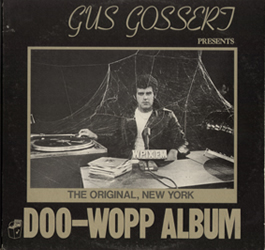 Gus Gossert Presents NY Doo-Wopp Vol. 1
In the late 1980s Diskin Engel Productions began creating and releasing 4 song retrospective EPs called "They Sang in Brooklyn". In 1989 Bobby Diskin contacted some of The Arrogants, still living in Brooklyn, and encouraged them to revive the band. Original members Franky Ayala, Sal Giarraffa, and Augie Miuzzo began performing again that year, as The Arrogants, with Les Levine (BQE) and Brian Emer completing the lineup. Diskin Engel Productions included "My Heart Stood Still", the previously unreleased recording, on "They Sang in Brooklyn Vol. 3".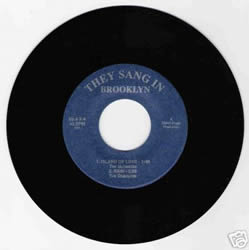 Commemorative EP of Brooklyn Artists, "They Sang in Brooklyn"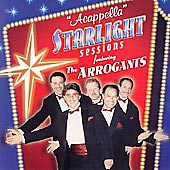 The band continued to perform in the New York tri-state area until the late 1990s. During that time they returned to the studio, with Denis Kestenbaum (The Excellents) taking Augie Miuzzo's place, to record a full-length CD for Starlight Records: "Starlight Serenade Presents The Arrogants"; they also had multiple songs appear on Starlight compilations, including the original recording of "Hold Me, Thrill Me, Kiss Me".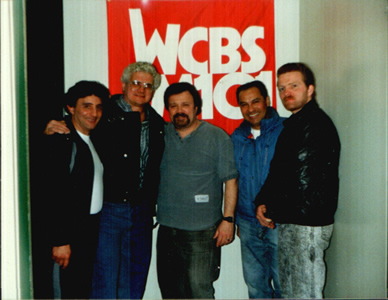 The Arrogants in the late 80s with DJ Don K. Reed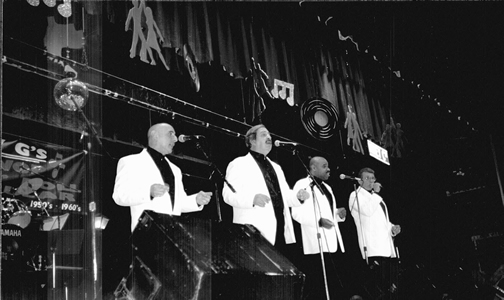 The Arrogants of the 1990s